Post by Becca on Jul 30, 2014 21:49:38 GMT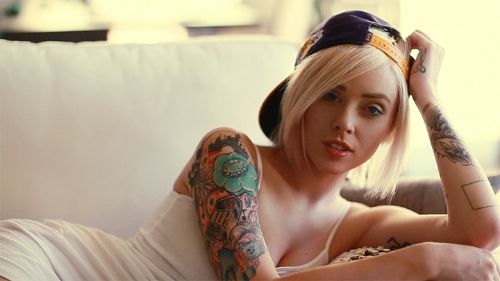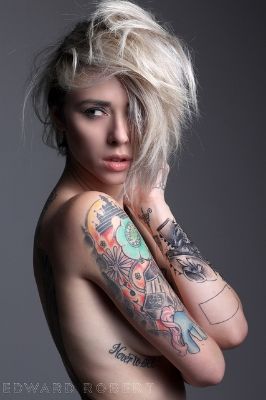 Basics
Name:
Joan Lucille Cassidy
Meaning:
Her mother named her Joan after Joan of Ark but her father remains under the impression she is named after Joan Jett, one of the best female rockers of all time. The name Lucille was her grandmother's name.
Nickname:
Her name is too short to need a nickname. Her father calls her Scout and a few of her close friends have taken to calling her that as well.
Age:
17
School year:
Senior
Social class:
Lower, pretty much dirt poor
Job:
Joan acquires what she needs through stealing and pickpocketing. She had a job once at the pizza place but was fired after they discovered she had been swiping money from the register.
Species:
Human
Sin/Virtue:
Greed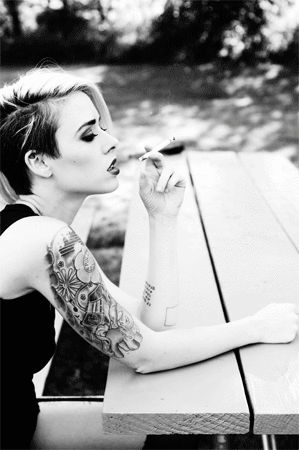 Appearance
Eyes:
Hazel
Hair:
Joan is naturally a brunette but bleaches her hair white-blonde because she likes how dramatic it makes her dark eyebrows. The left side of her head is shaved which she keeps brown while the rest of her hair is kept in a chin-length bob. Her hair is relatively low maintenance, all she does in the morning is shake it out and call it good. She sometimes goes days without washing her hair which is when she finds a beanie or snapback quite handy.
Height:
5'6"
Build:
She's a little bit on the scrawny side, having not much to show as far as muscle definition. Luckily her specialty is sneaking around so confrontation is never an issue because she most likely would not be able to hold her own in a fight. She has a lean stomach and subtle curves, the largest part of her anatomy being her tush. Blessed with a fast metabolism she rarely hits the gym and gets her exercise running away from scenes of the crime.
Piercings/tattoos:
Joan has an obsession with body modifications and lives for the sweet prick of the needle. She's had her ears pierced in five different places but avoided having metal on her face because her mother would just make her take it out. However, she did manage to get her nipples pierced since her mother wouldn't dare check there. Aside from her piercings she also has a collection of tattoos; some were attained from her father's friends, some with her fake ID. Her right bicep is completely covered along with random images on her left arm, two swallows near her pelvis, a large piece on her back and inking on either thigh. Her mother doesn't approval of it but it's not like they can be removed.
Clothing style:
She is not picky whatsoever when it comes to what she wears. If it fits, she'll wear it though most of her closet had a tomboy feel to it. She has a collection of shirts that once belonged to various boys which she likes because they are rather spacious. Most of the clothes are baggy and range from band t-shirts to tank tops, again, simple and comfortable things.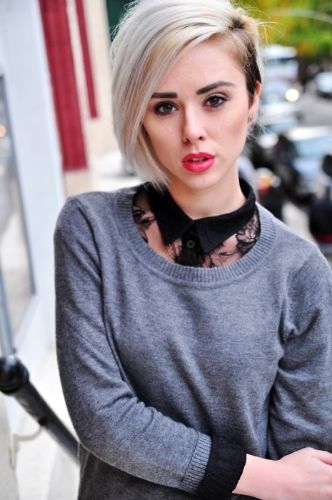 Personality
Habits:
Joan is quite the kleptomaniac, so she will steal anything in sight she finds interesting. She has perfected the art of pickpocketing which she does to pass the time while also adding to her own wealth. Unfortunately with her unhealthy habit of stealing she also has a tendency to hoard things. Her room is filled with random knick-knacks and junk that she refuses to throw away because she is attached.
Likes:
Pickpocketing, breaking the rules, a good challenge, getting what she wants, cigarettes, tattoos, video games, loud music, sex, older men, Ramen noodles
Dislikes:
Snitches, Goody two-shoes, perfume, wearing tight clothes, whiners, nature, dogs, cats, basically any animal, church, humid days
Social Status:
Joan is well-known around the school for all the wrong reasons. She's a troublemaker and someone the 'good kids' don't want to be caught messing around with. It is no secret her father's in jail which surprising gets her some bonus points with her own crowds. She isn't afraid to approach someone who isn't from her own clique mainly because she enjoys messing with people. Corruption is always a fun game.
Traits:
There is only one person Joan really cares about and that is herself. She puts her desires before anything else and will not stop until she acquires what it is she is after. Although she is easy going for the most part she is very critical inside her own head. A lot goes on in that pretty little head of hers, more than some people can comprehend.
Greedy|Manipulative|Deceptive|Sneaky|Confident|Sarcastic|Defiant|Selfish|
Stubborn|Impatient|Self-Destructive|Protective|Calculative|Needy|Ironic|
Open-minded|Risky|Sassy|Street Smart
History
Father: Luke Cassidy, incarcerated
Mother: Alice Cassidy, part-time at Burger King and part-time at a clothing store
Background:
Butch Cassidy: Old West villain, gang leader, and robber extraordinaire. Maybe it was just coincidence Luke Cassidy shared a surname with the notorious Western criminal and ended up falling down the same road, but he liked to believe the same blood that ran through Butch's veins were in his. After all, no one could prove the robbers death in 1908, and speculation says the man was seen alive past his estimated death. For all Luke knew he could be the great grandson of the famous shooter.
Luke Cassidy led a fast and risky life full of women, booze, and bank robbing. He did what he had to survive when rough times came around. One day during a bank robbery he bit off a little bit more than he could chew. The robber had went in less prepared than usual and things were starting to get dicey, so he did something he never had to do before, he took a hostage. She was young, blonde, and completely hysterical as the masked man used her to shield his own body as he made an escape to his own vehicle. A few blocks away he swapped vehicles to cover his tracks as the girl wept in the backseat. When he reached his destination, he did his best to assure the woman he wasn't going to hurt her but panic had already set in, and she was breathing sporadically. Little did he know the blonde was an asthmatic and needed her inhaler which he had stolen along with her purse.
Luke may have been a robber, but he was no murderer. He rummaged through his findings until he located the inhaler and gave it to the woman, talking her through her attack before stupidly removing his mask. Luke had always been a good-looking guy and quite the smooth operator. He hid for a few days, forcing the blonde who he had come to know as Alice to stay with him in case she had any ideas about squealing. In those days the two got to know each other and Alice came down with a bad case of Stockholm Syndrome. He was handsome, well-off from his crimes, and knew just the right things to say to her. After hiding out she told everyone the masked man had let her free and introduced her to Luke Cassidy, her new man, without anyone knowing he had been her captor.
A few months later Alice discovered she was pregnant, which came as a shock to them both. They raced to the altar to appease her parents and moved into a small townhouse together. Alice's slow life kicked into gear when she met Luke. In just a year's time she had a husband, house, and baby; everything moving at the speed of light. People said it wouldn't work between her and Luke since they moved so face, but their romance burned bright. The couple welcomed their daughter Joan Lucille Cassidy, vowing they would give her whatever she wanted in live.
However, Luke's less-than-favorable job soon brought the family into hardships. When Joan was only three years old her father was sentenced to three years in state prison for grand theft auto. Luckily he had talked himself out of charges of robbery and there was no enough sufficient evidence to prove he had robbed the nearby bank as well since he had ditched the cash in a local trash bin for his wife to pick up later. Alice used the money to have her husband moved to a nicer facility where she could visit him every weekend with Joan. These visits became so natural for the little girl she thought every kid's father was locked up and they got 'special visits' with them. During these years, Alice was forced to take on two low-income jobs to support her daughter and keep the house.
When her father's three years were up, Joan was delighted to have her father back. He took her out for ice cream, planned family vacations, and helped her with her school work. Since Luke didn't have an official job, he was always there for his daughter. Alice decided to keep her two jobs since her parents were starting to grow suspicious about neither her nor Luke actually working. All this time left with his daughter made Luke rethink his strategies, and at seven-year-old he was using Joan to help with his heists. She would case the place and serve as his lookout, being a distraction when necessary. It was in these days Luke took to calling his little girl Scout and the name stuck.
As Joan grew older, her father started teaching her more and more of his skill. At ten years old he taught her how to pickpocket using the seven bells method. He strategically placed seven bells on a coat before putting it on. Her duty was to extract the money he hid in the coat without ringing any one of the bells. If one of the bells rang, her cover would be blown. She struggled with this practice for weeks until she could flawlessly execute the maneuver. Then, he took her to the streets to try it out on real life civilians. They brought in fifty dollars that day, not bad for a beginner.
Though Joan didn't have a traditional childhood, she still lived a happy life. She was her father's right-hand-woman and things were going just fine, that was, until Luke got caught. He thought he had disarmed the alarm to alert the police but not completely cut through the wire, and the place was surrounded within a matter of minutes. Joan had been posing as an innocent bystander at the time and watched as they dragged her father away to the police car. He was found guilty and sentenced to thirty years in prison, she was twelve at the time.
With the flow of money gone from her father, Alice struggled to keep the house with what little income she had. Joan was desperate to keep the house and resorted to pickpocketing in order to help her mother. Unfortunately it wasn't enough because they soon lost the house and were forced onto the streets. Her and her mother spent a good deal of time sleeping in homeless shelters and eating in soup kitchens. Often Joan broke off from her mother to roam the streets by herself. She still went to school like nothing was wrong but afterward she would pickpocket hoping to buy herself something that wasn't the crap they served at the soup kitchen.
One of the only times she was ever caught pickpocketing was when she was thirteen and the man's son caught her slipping money from his pocket. She pressed her finger to her lips, praying he wouldn't tell, and for some reason he didn't. Joan was impressed by how much money the man kept on him for just walking out and about. The next day, the son of the man she'd pickpocketed approached her and they started to talk. In the back of her mind she knew she could use this to her advantage, his father was rich after all.
After a few months on the street, her father received her letter about how her and her mother now lived on the street. He was able to pull some strings and wrote that 'Uncle Vin' would find a place for them and take care of them. A few weeks later a bald, stocky man arrived at the shelter they were staying at and showed them the cheap, rundown apartment they could now call their own. Unfortunately, since this 'Uncle Vin' was paying for the apartment neither Alice nor Joan had any say in what happened there. Random people started coming in and out of the place, crashing there and utilizing it as a safe house. Alice hated the unexpected, bad company but Joan loved learning more from the felonious guests, some of which she ended up in bed with.
When Joan was sixteen she decided to put her long-term plan into action. She went to a club where she found Stanley Morello. After a few drinks, she insisted they go to his house. Unable to restrain herself, she slept with Stan and in the morning snuck off to steal his father's identification. Again he caught her in the act and surprised her with his response. He agreed to let her as long as he got a cut, so that's exactly what she did. Instead of helping out her mother with the money, she used it for herself. She frequented online cafes and ordered items online to cover her tracks. Everything she bought, she hoarded in her room which she kept under lock and key to keep the frequent houseguests out.
As new of the death of Stanley's father hit the news, Joan found it rather strange she felt no remorse. What she had done had lead him to suicide and she wasn't sorry about it at all, as long as she had her things nothing else mattered.
To this day she still lives in the rundown apartment with her mother, housing unconventional guests while she attends Eden High School.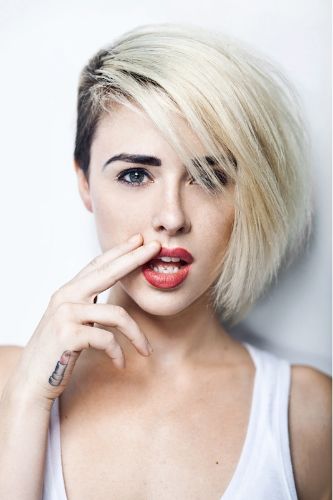 Relationships











Stan Morello: Joan's best friend and partner in crime. She first met him when she pickpocketed from his father and later became even closer with him when they swindled his father out of all he had. She doesn't give trust out easily, but he is one of the very few people she can say she trusts. With his desire for things and her will to go out and get them, they make the perfect team.

Tony Capello: Her on-again off-again boyfriend. He's in his late twenties and came into her and her mother's apartment for sanctuary. Tony is a small-time drug dealer, mainly just dealing with marijuana. The two fight a lot, and it can sometimes get physical but they always end up making up one way or another. Neither of them are very good at commitment so it's no surprise they are untrue in their relationship. Surprisingly if asked who wears the pants in the relationship it would be Scout.



Playby: Alysha Nett